The GHBot site is the complete solution...
These are tools that have been specially put together to help you create your own systems or to save you time.
And in the case of the free systems, even to give you a chance to make some profit.
Each one of these bonuses on their own could easily be worth £100's a year to use.
But even if you just said they were worth £100 each for a years use then that is £900 but in reality is probably nearer to £1700.
But you don't have to pay a penny extra they are all included as part of the GHBot service.
And YOUR first month's subscription to the GHBot is just:
£27 (less than £1 a day) £17.00
30 day introductory offer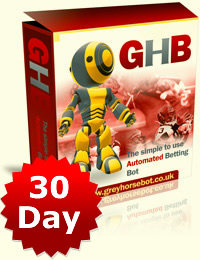 Yes please let me take advantage of your low price 1st 30 day introductory offer of just £17
I understand that this entitles me to full use of the GHB bot and all bonuses listed above, the members area, the secret forum (when it opens).
I know that if I decide to cancel my subscription at any time I can do this by using the simple button in the members area.

Add the GHBot to your cart for just:
£27 (less than £1 a day) £17
If you decide to carry on using the bot after the first 30 days, you will then be charged £27 (less than £1 a day) and £27 every 30 days for as long as you subscribe.
It goes without saying that during your membership you will be entitled to any updates to the Grey Horse Bot .
Hi it's Malcolm Here
I am the creator of the GHBot and all the tools and systems that belong to the GHBot Family.
My goal has been to give members of GHBot everything I think you would want to save you time and get ahead of the average punter.
These aren't just old tools that have been thrown in as a bonus just to get you to join us...
...Not at all. In fact many of these bonuses I up-date continually. Especially ones like PR Ratings where members are always asking for extra features.
Just recently the GHBot was updated to handle "Dutching" better because PR Rating users were finding some very interesting system .
But we are all about helping members and shortly we will be opening our members only forum.
This is a place we hope as a member you enjoy sharing ideas and suggestion as well as requesting updates to our growing family of tools.
So if you want to save time by letting the GHBot take over your betting and have a chance to find your own systems instead of relying on tipsters then the GHBot toolbox is for you.
I really do hope you can join us.
Thanks.
Malcolm