Never pay again Grey Horse Bot special
GHBot special
March Bonuses
GHBot Trading Setup and tips


Specially selected tips and setup guide to make automated trades based on my own formula.


September Bonuses
Scoring Power Tool



Create your own scoring systems, save them and automatically get the selections daily!


May Bonuses
Special RP Ratings version


You get my version of the PR Ratings which includes new features before they are rolled out to the network and you can see the experimental results sheet system I am working on.


Also in April...


A course of videos I recorded on creating your own betting system using the SPB System Builder


---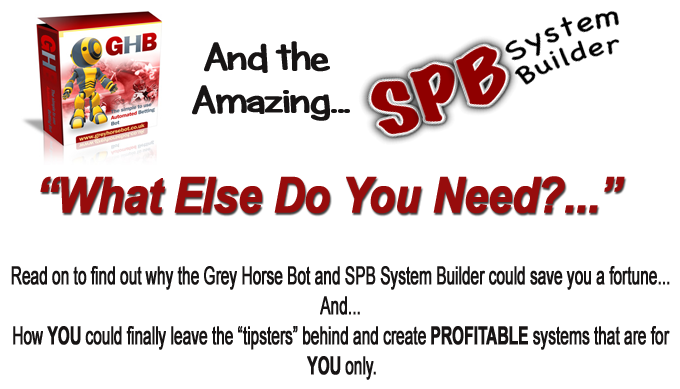 <

Profitable systems like....

The Mares System (a bonus)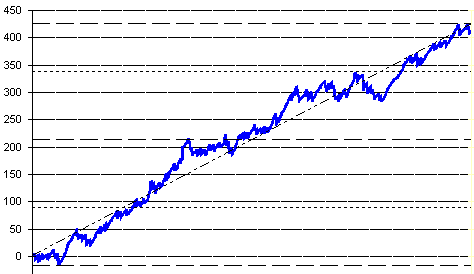 Test System 18 (taken from the bonus scratch file)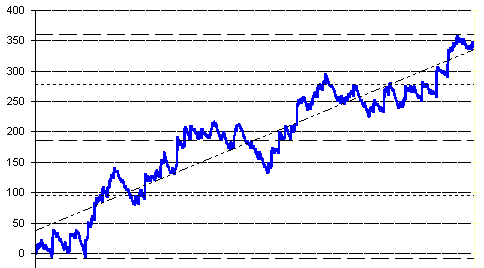 Or this Flat only system (taken from the bonus scratch file)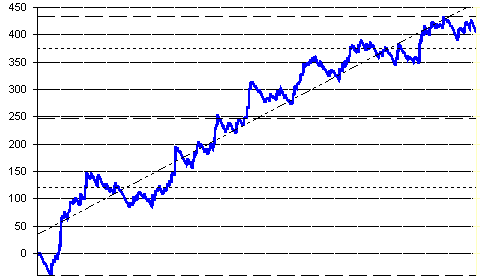 Sorry I am going to be honest...
When are you going to learn?
Other peoples systems WILL probably NOT make YOU a fortune or ANY money at all.
Other people tips and systems WILL COST YOU money.
YOU HAVE NO CONTROL over other peoples tips and systems.
YOU normally DON't KNOW how they were created, the thinking behind them, even if the results are correct.
All that YOU REALLY KNOW is what they are telling you and what they want YOU to see.
I don't have to prove this because I am sure by the time you have read this page you have already bought and tried many systems and tips and still haven't made any money.
In fact statistically you are more likely to have LOST money.
But then you already know this...Don't you?
"What choice do I have?" I hear you ask.
Isn't creating your own system difficult?
What about testing it...doesn't that take time isn't it expensive?
Let me ask you a question...
How many people selling tips or systems out there actually show you a video or screenshot of their own betting?
Not many...if any...why do you think that is?
Maybe because they just don't trust the systems enough themselves to put their own money on them...even small stakes!!!

Mares system £1.00 liability with the Grey Horse Bot. Tips sent automatically to the bot every day.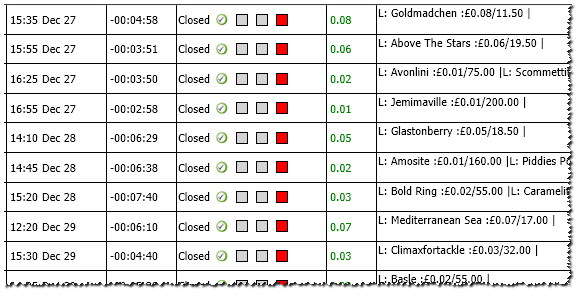 They Don't Trust Their Own Systems...But They Expect You To!

The question really is...


If they can create systems then why can't you?


Let us look at what do you need...


Time. Yep you need a bit of time but not as much as you think


Ideas. Well I can help you there and really there are lots of ways of creating systems.


What you really need is..


Past Data.


And time to run the systems.


We will come back to both of those in a moment.


First I want to tell you something important...


I am a great believer in the fact that betting is a personal thing...


…And I don't believe…1 size system fits all.


You have your own bank size.


You have your own risk size.


You will have days when you can and can not bet.


You may even have your own ideas about races and selections to avoid based on your own experience.


You may prefer only to bet in the week or only at weekends.


But because you are an individual every system you buy off the shelf is a compromise.


If you don't follow it exactly being on every race, every runner on every day with the correct stake (as advised) then you risk losing.


Let me show you a better way...


Introducing the SPB System Builder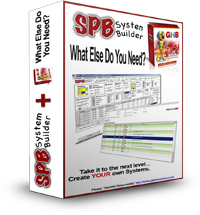 I created the SPB System Builder for myself originally (as I do nearly all our products).


I am a system developer with over 12 years experience of creating and developing betting systems.


I am also a software developer and just love building applications that make life a lot easier.


Trudging through days, month or even years of back data hosted on a website is chore, that I would rather not do.


Worse is that unless you are looking at the racecards in the morning, then a lot of what you are seeing is post race information.


That's why I decided to create my own horse racing database.


And now every morning I have at my fingertips all the information for the days racing.


But I also have the information from over 21 months (and more available) worth of other mornings as well.


And although that is amazing. Unless you are an expert at SQL and know how to query the information then it's not much good to you.


That is why I created the SPB System Builder.


I want to show you why you really want to get your hands on this amazing bit of kit.


The SPB System Builder lets you...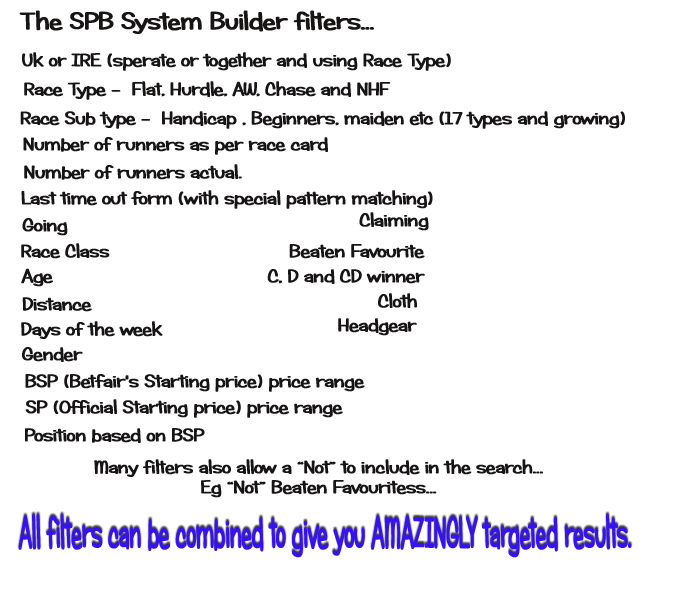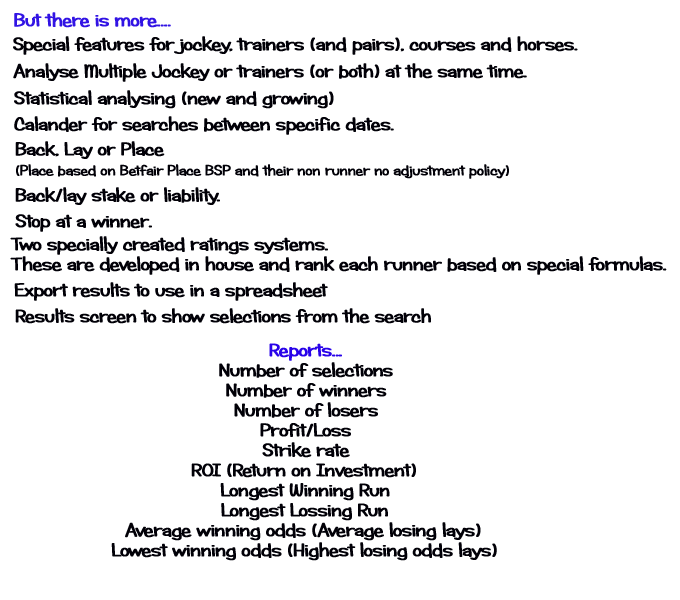 Main screen- (look at all the options... just lovely!).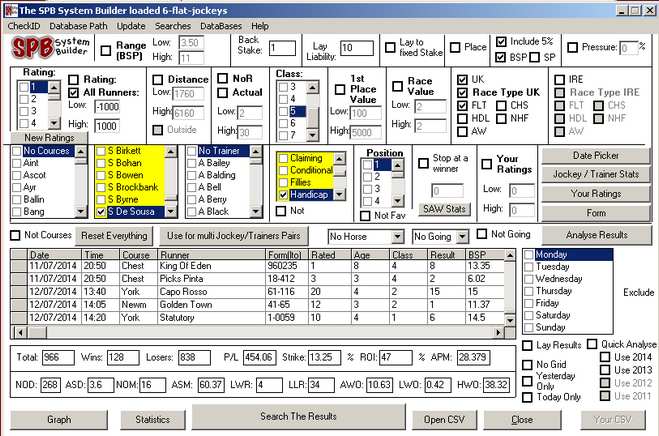 Form Screen - (More features being added all the time and check the unique multi-select options).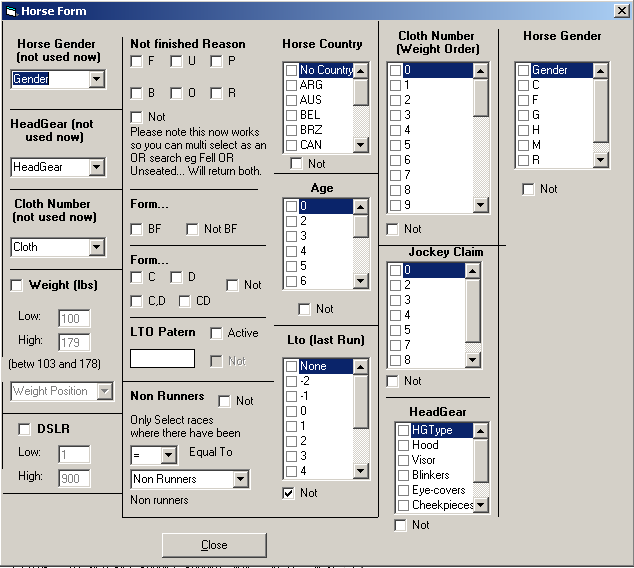 Analyse Screen - (Look at your systems in even more detail...to make them even more profitable).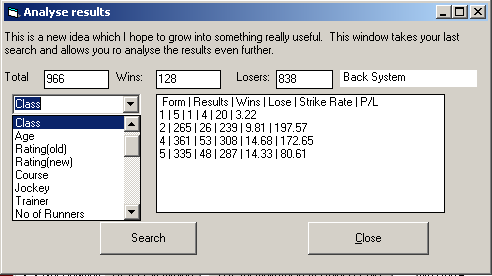 Date Range - (Search different date ranges..any date range).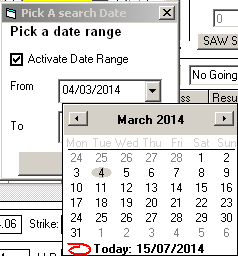 Graph - (See how your system looks over time...look for those nice upward lines).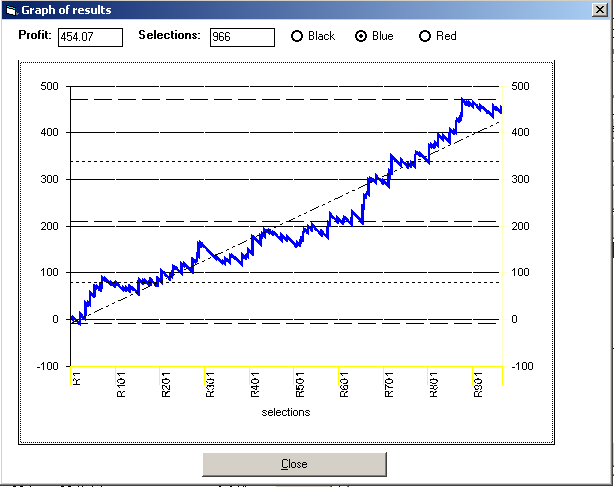 Ratings - (Create your own ratings and then run them against the full database records...what over software does that?).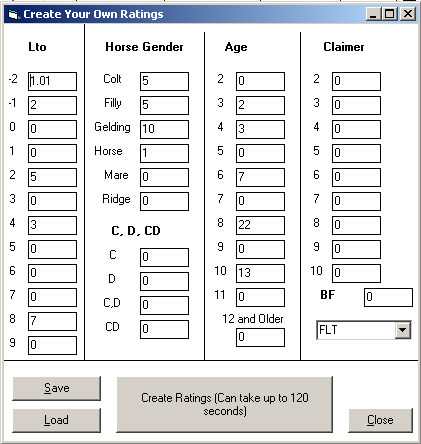 Statistics - (Find out what is really happening with our growing statistical screen...more accurate every day).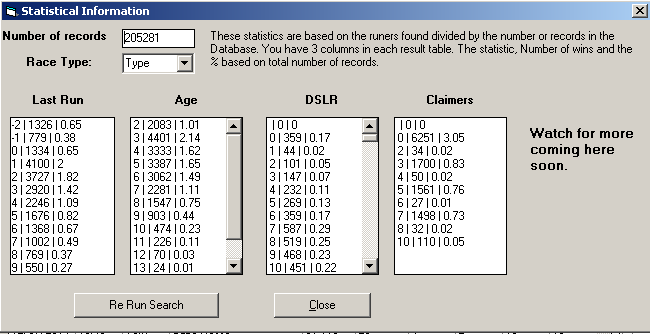 Jockeys and Trainers - (Find the most profitable Jockeys or Trainers or Jockey/Trainer pairs...Amazing Profit to be found).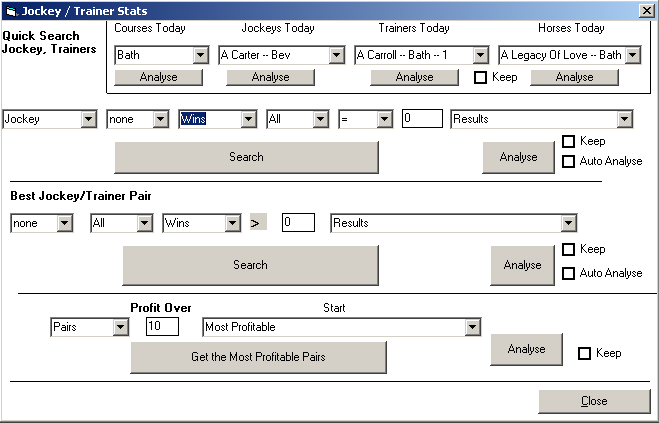 That's great but once you create your own system you then have to select the races daily and the more complex the system the more time it takes...


Not when you have the power of the SPB System Builder...


Every time you create a system the SPB System Builder gives you a unique link.



This link can be put into any web browser at anytime or used with the Grey Horse Bot to select the runners for you daily.


No more trudging through race cards to find the selections...Everything is automated.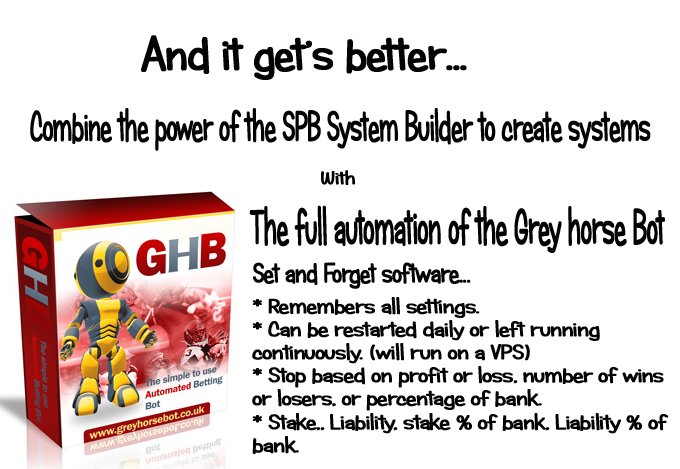 The Grey Horse Bot has been an Approved Betfair API product for over 8 years.


It has been used by 100's of people in that time. And every day users trust the software to carry out their betting instructions.


Our new version (URL) is being developed along side the SPB System Builder.


Here is an example…


The official BSP (or SP) are not announced until the race starts.


You will not know the real BSP favourite, second favourite etc (we call this ranking) until the market goes in-play.


Note: The ranking before the off can change when BSP is announced.


We wanted SPB System Builder users to be able to filter results based on BSP ranking which wasn't really an issue.


But for it to be useful the Grey Horse Bot needed to be updated to get the BSP ranking as soon as it was announced in-running.


So we updated the Grey Horse Bot to do just that.


Now our members can actually select what runner based on ranking to bet on.



So how do you get your hands on this amazing package?


Well first let me tell you about some amazing bonuses...


As I am an experimenter I tend to have a lot of ideas hanging around in what I call "Scratch files".
Basically I have one for different areas of interest.
Sometimes they are just in note pads others are on my computer and some are on my Ipad.
As you may know one of my hobbies is training dogs.
That includes Obedience, Agility and just recently "Rally".
So I have one for each area of interest where I jot down ideas from other people and things I have learned from trial and error or points that I think are worth keeping.
I have recently started building a 3d printer and I have one for that as well.
I also have one for the SPB System Builder.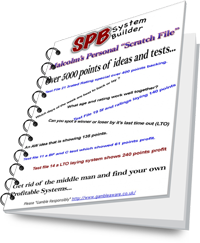 What happens is that when I add a new feature to the SPB System Builder...I have several tests I run through to make sure that the feature is working as it should.
The feature will obviously have an impact on results and lead me into new areas to test.
So when I see something I think is worth looking at in more detail...

Instead of just dropping everything and pursuing it there and then, I put the idea into my scratch file.
Then when I have a bit of free time (which is why I don't have any free time) I pick up one or two of the ideas and run with them to see if I can find anything interesting.
This scratch file runs to about 7 pages of ideas at the moment.
Some I have actually explored and made test files for and others are just sitting there to be explored.
It's not neat and tidy and it would probably drive some people up the wall but it does contain some interesting information.
What I generally do is jot down the idea along with a rough estimate of the point's profit I saw when I discovered the idea.
In fact a quick add up showed well over 5190 points in ideas.
But I am the first to admit that there are plenty of ideas in there that may not work but there are also plenty in there that have a lot of potential and will certainly guide you in the right direction of a profitable system.
And there are at least 10 ideas I have developed and started test files on.
Although they are still a work in progress they include…
Test file 11 A BF and C test which showed 61 points profit.
Test files12 4th Rated Class 1,2,3 test shows 225 points profit.
Test file 13 4 combined ratings that show 400 points backing
Test file 14 a LTO laying system shows 240 points profit
Test File 15 BF Fav system shows 100 points backing
Test File 16 LTO Backing over 200 points backing
Test File 17 1st rated favourites just 40 points
Test file 18 HDl /CHS and 5 filters 250 points
Test File 19 5f and ratings layin 140 points
Test file 20 9th rated special 200 points
And just discovered today…
Test File 21 3rated Rating special over 400 points backing.
Just there alone is over 2000 potential points.
But there are others like…
Which days of the week are best to back or lay ?
(There is one that appears to be the best day for laying favourites.)
What age and rating work well together?
(One shows over 200 point's profit)
Can you spot a winner or loser by it's last time out (LTO)
(One shows 149 points)
What about an AW idea that is showing 135 points.
These are just some of the things that are contained in this file.


Every so often I will record a video about creating a new system.

I have already been doing this anyway for the last few months (in public) to show off what the SPB System Builder can do.

I know that the idea behind the SPB System Builder is that you create your own systems, but it doesn't hurt to see how I create them as well.

Normally when I do this members report back to me showing how they have either changed the system to meet their own needs or in some cases improved it to make the system even more profitable.

In some cases these systems will be released commercially costing between £39.00 and £77 but you get them free.

I recorded 9 in 2014 and expect more in 2015.

This bonus alone could be worth well over £400 a year.
If you thought that was good we have only just got started...

But Grey Horse Bot members get far much more...this is the complete automated racing service.
Just take a look at the bonuses you will get as a member at no extra cost.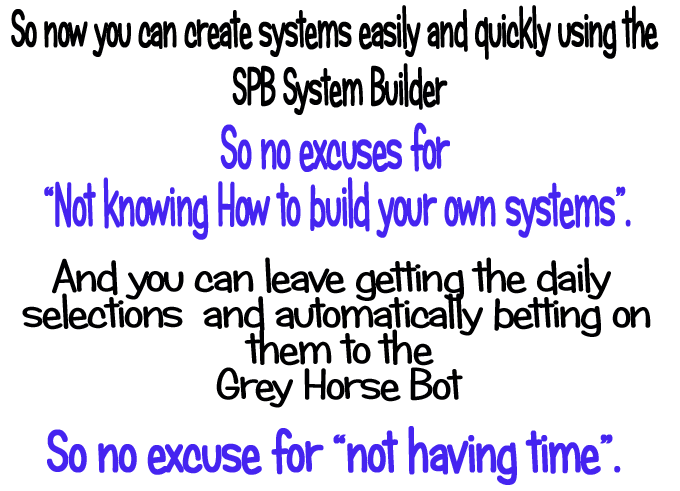 How can you get your hands on this great package?

The SPB System Builder is a Bonus along with the other bonuses listed when you take out this SPECIAL "never pay again" Grey Horse Bot subscription.

This SPECIAL Grey Horse Bot subscription not only entitles you to the SPB System Builder and all the above bonuses - but also entitles you to the new URL Grey Horse Bot that is being developed especially to work with the SPB System Builder.


Please remember to read our
Terms & Conditions
before ordering. never pay again terms are
here
Now is your chance to start creating your own profitable betting systems.
This is a limited offer for 53 Licenses. When they are gone the payment buttons disappear.

Thank you for reading I really appreciate it and I hope to see you on the other side.

Malcolm


The Grey Horse Bot and SPB System Builder
"What else do you need?..."