Are you just plain "Fed UP"

With giving so called "Tipsters" your hard earned cashed only to find after they take it they don't provide the goods and don't give you constant winners?


Are you sick to death of these so called "systems" that people keep selling to you...
...Which turn out to be just a bunch of garbage?


How much has it cost you up to now?


Yeah I know it hurts thinking of the money you have wasted on broken promises and bets that could have cost you hundreds of £'s
Unfortunately it is something we all have to go through until we find a better way.


Do you know why it keeps happening?


Well first of all it's not your fault…


I mean you haven't done anything wrong.


You gave over your hard earned cash…You fulfilled your part of the bargain..


Why didn't you get the winning tips promised?


Well I am going to tell you about that in a moment but first let me introduce myself…


Hi my names Malcolm and I am probably what is called a "Professional System Builder".


Why?


Because I do it as a Job…


Yep…Can you believe it?


But it's true I build systems every day for myself, customers and private clients.


I have my own racing database and am also a programmer.

So I can delve into history and use some pretty amazing ideas to find places where you can make money from the horses.


It's my job and I love it…


But here is my secret…


I build research tools to help me find systems.
But apart from that I am just the same as you…
I am just another punter trying to look for an angle to make me and my client's money.
OK I have better tools than most other people (But you can as well)
That' the only difference between you and me and any other tipster out there.
But I am about to level the playing field for YOU...So keep reading.
So now you know who I am let's look at why you fail again…
Here's the problem…


In order to sell a system or tips to you "The Tipsters" have to promise you "BIG".
If they say to you…


"Hey I can make you 1 point a month"


You won't buy from them…


This has got worse over the years…


When I first started creating systems (over 12 years ago).
We would be able to sell systems that produced 5 to 10 points a month.
Unfortunately those days seem over…
Each time I do a new job for a client they demand more and more points from a system…
Just the other day I sent a client what I thought was an amazing system that showed a profit of over 20 points a month.
It was a new client so I was really trying to impress…
After sending it to them they rang me and said…
"Sorry Malcolm although the system looks good…
We need 30 to 50 points profit a month in order to sell the system to our list…
They just won't buy anything, that shows a profit less than that!"
Can you believe that?
It's crazy…I know professional gamblers who are making a living from this, that are happy if they end up the year 30 points in profit let alone one month!
Our expectations of the amount of money we can earn from gambling have escalated out of control which has led to promises that are just plain stupid and cannot be delivered consistently.
Not from one system or tipster.
And that my friend is why you keep wasting money and getting nowhere…
I remember one quote that sticks in my head constantly…
"The definition of Insanity is doing the same thing over and over and expecting different results!"
That was from Albert Einstein who was a pretty smart guy.
So I ask you are you going to go "insane" by buying the next "Shiny Object" from the next tipster to get promoted by the people holding the biggest email lists…

...And expect different results?
Or are you ready to open your mind to a better way?
If you are read on…
If not go over here and buy the next Shiny object!
[Only kidding you don't want to do that...do you!]
So here is a new concept for you…
1.You look to scrape less money from the markets.
2.You find ways to do it yourself.


And it is far easier than you think…


Why…


Because I made it easy for you… :-)


I have created a tool that you can use right now to pick your own winners just like one of those "Tipsters" out there.
And the beauty is...You get them first and don't have to share them with anyone else (yeah you know the value disappears really quickly from services)
I call this tool "PR Ratings".
I first came up with the concept a few years ago.


The idea was to allow users to create this own systems using the ratings that I provided.


But a couple of months ago I decided to update the whole idea and create a much more useful tools.


Introducing PR Rating V2.0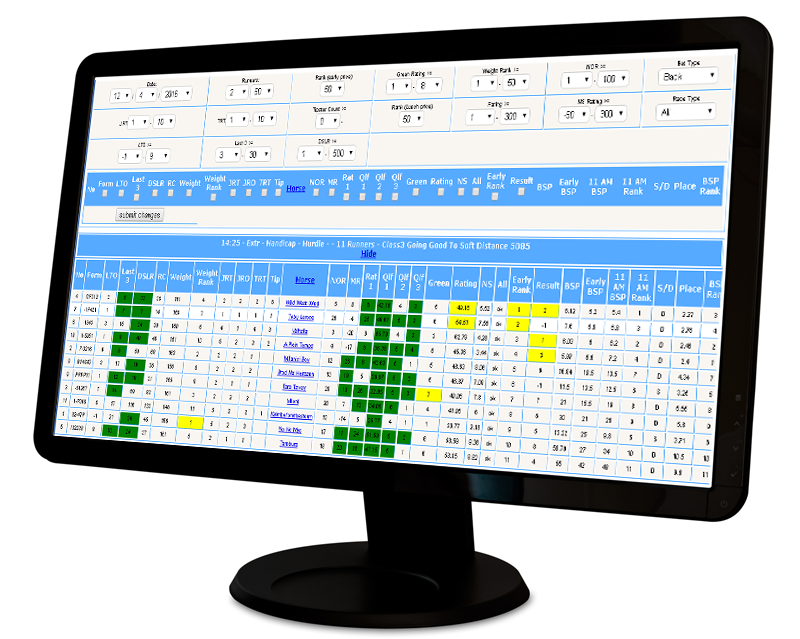 "I've been using Malcolm's Products for some years now, but this latest PR Ratings Software is brilliant imho!"
PR Ratings V2.0 is not only an amazing training aid allowing you to analyse "racecards" in as they were meant to be.
• Teach yourself quickly how to find winners (The "training mode" gives you all the information you need to find winners but the results are hidden!)
• Full statistical information going back to Jan 2015 on all "Handicap" Races so you can try your skills at any time. (Once you come up with an idea try it over 1000's of records)
• It has Several ratings systems (to help you get a head start on selecting possible winners.)
• Full results showing you Betfair SP prices and Place prices. (Industry SP prices will be added shortly).
• Snapshot prices taken at 6am and 11am. (This gives you markets for looking at steamers and drifters and can be compared to the Betfair SP price)
• Full horse racing history (allowing you to decide if the horse could win or place at the course)
• 16 Filters (and growing allowing you to only select the runners and races you are interested in)
• Data filter (Turn off things that you don't want to see so you are only left with the information that is most important to you.)
• Selection link (As soon as you have come up with a method that suits you a link is provided so you can automatically get the selections daily…"How cool is that?")
It's never been this easy to look at the daily race cards and select runners.


I even give you a number of video's to show you different ways to use the ratings to find winners.


At the moment there are 23 different pieces of information…


…They include:


• Regular form information (Which you see on most form cards including last results. These are laid out clearly in front of you).
• 6 Ratings figures (These are figures I have created from my own research but give you a chance to use them to help find winners.)
• Main ratings (This is a figure that is created from adding together a number of other ratings to get an idea of the potential of the runner. This helps you select only runners that should have a good chance of winning or placing.)
• Green Ratings (This figure is based on a number of form and ratings figures falling between certain values. Find out which Green rating number gives you the best chance of winning).
• 6 am and 11 am prices. (Is it better to use 6am Prices, 11am Prices or BSP? .)
•
Chance of Winning.
(Find out how you can use Chance of Winning to find better Dutching combinations. Do you know which combined figure gives you the best chance of winning? With the PR Ratings you can actually find out.)
So if you want to stop wasting money with tipsters and start making money from your own selections then you really should take action now…


Why?


1. Don't keep spending money on tipsters and expect different results (remember Albert Einstein!)


2. This offer is limited (really anyone who follows me knows all my offers are limited and can be taken down at any time.


3. The 10% rule. Although I am involved in creating tools for punters like yourself I am also a business man…Yep I do this to make money (I would be lying if I didn't come clean on that one.)
A new thing I learned lately is that I don't know how much this software is worth to you.

(I do know it is worth a lot more than it's current price!)
So after I sell a few copies I am going to start rising the price by 10% increments.
That means the price you see below maybe about to go up by 10%...
Don't worry it will only change if you refresh this page…You still have time to lock in the price below (But remember I am a programmer I can auto refresh pages…lol)
4. Here is another saying…"Give a man a fish you feed him for a day. Teach a man to fish and you feed him for a life-time"
Let me teach you a great "Dutching" method in this video.
But one last thing before I give you the current price...
Sorry but I didn't build this tool for time wasters or "Tyre kickers".

So please if you are a "Sit on the couch and want everything handed to you on plate" kind of person then don't buy PR Ratings, it's not for you.
There are no promises that it will make you rich over night (I have avoided saying anything of the kind)...It's is a tool which requires you to use it.
And if you use it as intended...Boy will your betting change for ever!!!
"
I looked at was the PR ratings (old version) and my comment at that stage was that the ratings alone are worth the price! I still haven't changed my mind. In fact the new ratings just seem to get better and more accurate. There are so many ways that you can use them I am going to have to retire from work at this rate to utilise their full capability!! "
"Malcolm ....very, very happy with the "Wild-card" Gizmo ..what a short-cut this has created to form study...winners are just jumping off the screen....what more can I say but brilliant !"
So if you really want to finally kick those so called "Tipsters" in to touch...
Then Get the PR Ratings tool NOW.

IMPORTANT
(NOTE: PR Ratings only covers "Handicap" races at the moment)
Look there are no guarantees you will win anything using the PR Ratings...
It's not a betting system and it is not a tipster...It's a tool that I created to give you as much information as I can to help you find winners.
Your definition of winning could be totally different to mine or "Bill next door".

You may prefer to lay instead of back...You may like dutching or you may just want to win on the place market.
You may prefer one selection a day or one hundred!
You may like using recovery staking plans or hate and despise them.
The point is...Only you know what you want from betting.
And that's the great thing about the PR Ratings Tool.
It can be what you want!
"Hi Malcolm,

I felt I just had to drop you a line about the PR Ratings Tool.

I don't give praise lightly, but I certainly give praise where it is due.

I think I was probably one of the first buyers when you released it in BETA stage.

I must admit at that stage I was disappointed, with the basic information provided, but now WOW it is a pretty mean bit of kit., and it has certainly resurrected my betting..

Again I don't say this lightly as I am in my 70's and have been betting for over 50 years, with reasonable success along the way.

Thanks to your PR Ratings Tool I have devised 2 Killer Systems, one which is a Lay System, and I am not a Layer, but as it is using Forecast Favourites that rarely win, I am excited about it.

I also have an Excellent Backing System for the Flat Turf, with a Strike Rate between 70 & 75 %. Now I have to adapt it slightly for the All Weather Season.

Your latest updates also add another dimension, to my strategies, as it saves so much time, as it takes the strain out of the additional manual checking.

All I can say is keep up the good work, and keep evolving....

Thanks

Colin"
So get your copy before it goes up by 10%
Wow still not convinced...I am kind of hurt!
I have spent hours and hours building this tool to make life easy for you.
And you still haven't decided to get your copy.
Even though the software is constantly being updated and added to make it even better.
Ok how about a bonus then...
A year or so ago I created a number of videos on how I create systems.
Now these videos were not intended for this software but still cover a lot of the info that can help you create systems.
I only sold them to a select group of customers and no one has seen them since.
But if you join PR Selections today then they are yours as a bonus from me.
F.A.Q:
Q. Why ratings?

A. The normal race card information is great but it is difficult to use it to put one horse against another in a race.
Ratings allow you to score each runner separately giving you a better understanding about how the horses rank against each other.
Q. How easy are they to use?

A. Well like any tool it's takes a bit of getting use to. But because they are laid out like a race card you should become familiar with them pretty quickly.
It's then just a matter of using the filters to find your selections.
Q. Why can't you just give me systems using the ratings?

A. Because that defeats the object of you learning to do it yourself!

I have created systems using the ratings and continue to do so and at some stage I may sell them to the public. But for now I wanted to give you a tool that could use to find your own selections.
Q. Why only handicap races?

A. I just think you can create better ratings with more information.

Handicap runners tend to have a history which makes it far easier to create accurate ratings.

Still not convinced that the PR Ratings is for you...
Well I haven't got anything left to offer...Sorry :-(
But thank you for taking the time to read the page I really appreciate it.
Until next time...
Malcolm
P.S. Don't forget if you decide to get this later then it could be more expensive...maybe not even available.